Press Release: 2018 Ecommerce Report: The Netherlands
The Dutch Ecommerce Market still expanding in growth potential; forecasted turnover for 2018 ≈
€ 25 billion 
The Ecommerce Foundation marks the launch of our first 2018 Ecommerce Report on the Netherlands. In total, the Ecommerce Foundation will publish 23 Ecommerce reports including the European ecommerce report, the global report, top ecommerce country reports.

Sara Lone, Research Coordinator, Ecommerce Foundation stated: "The reports this year will be richer in content than ever before, as we are including data our readers specifically asked for. We're taking a closer look at consumer behaviors and preferences,while obtaining on-the-ground knowledge from retailers and logistics providers in each country for the best advice on how to enter and succeed in the market. Jumping right in with the Dutch e-commerce landscape, the resounding messages from our experts were: 1) Dutch consumers are frugal, and 2) make sure you offer iDEAL as a payment method."  
This extensive study about the Dutch ecommerce market, illustrates the fact that this rather small country has a strong logistical infrastructure and a healthy and growing economy. It also showcases consumer behaviour, consumer trends and interviews with leading retail & logistic experts.    

Growth & upcoming markets
The B2C ecommerce turnover grew to €22.50 billion, pushed along by a growth rate of 13%. This is set to rise in the coming year, with forecasted turnover of just below €25 billion and a growth rate of 10.87%. The amount e-shoppers are willing to spend has increased substantially in the last year to now over €1,500 per shopper, illustrating the growth potential in the ecommerce space.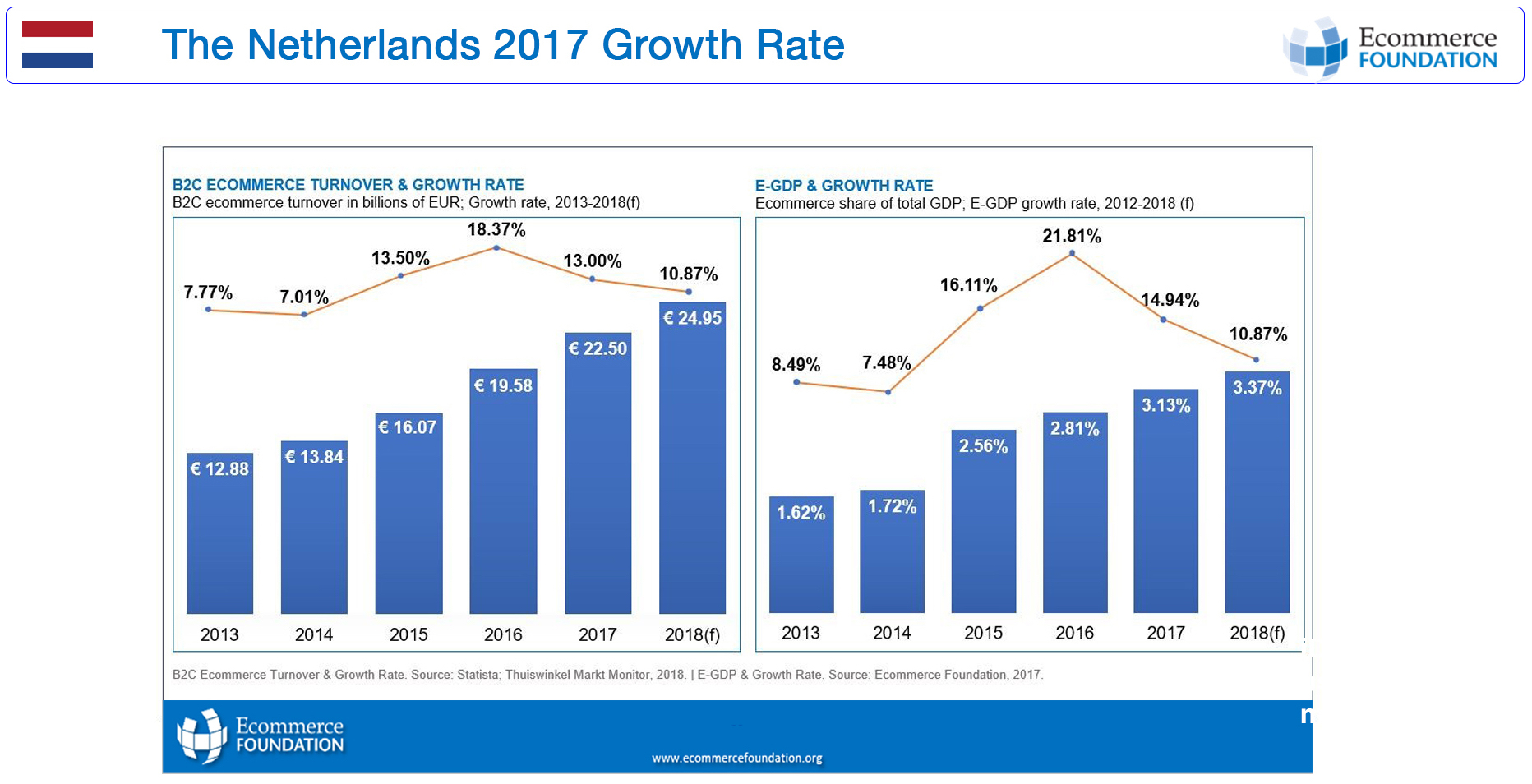 Clothing is by far the largest revenue earner for e-retail revenue in the Netherlands (€2.29 billion), whilst the largest growing sector in terms of products was 'Health and Beauty' in 2017 (+46). Regarding services, Airline tickets and accommodation come out on top, having taken in around €3.34 billion in 2017.    
Consumer behaviour in the Netherlands

Dutch consumers aren't a homogeneous group. The technological basis and rapid development of online shopping and social media has led to generational differences in Dutch online shoppers. For example 'digitieners' (14-20) mostly buy books, games or CDs/DVDs online and care less about privacy. 'Generation X' (36-55) are still attached to their tablets (64%).
When it comes to social media, WhatsApp and Facebook are the market leaders in the Netherlands, however, for the first time Facebook experienced a decline in use from 79% in 2016 to 74% in 2017. When it comes to spending on a purchase via social media, 35-44 year olds will spend the most (€78.00).
Surprisingly, the top two shopping apps for iPhone users are ABOUT YOU and AliExpress. Although much of the Dutch population is bilingual (particularly in English and German), when looking to buy online, online shoppers overwhelming use Dutch webshops (95%), with only 34% doing so from other EU countries.
Although usage of social media and marketplaces is prevalent amongst Dutch consumers, almost half stated they felt fairly or very uncomfortable with the kind of data collection generally associated with using these platforms.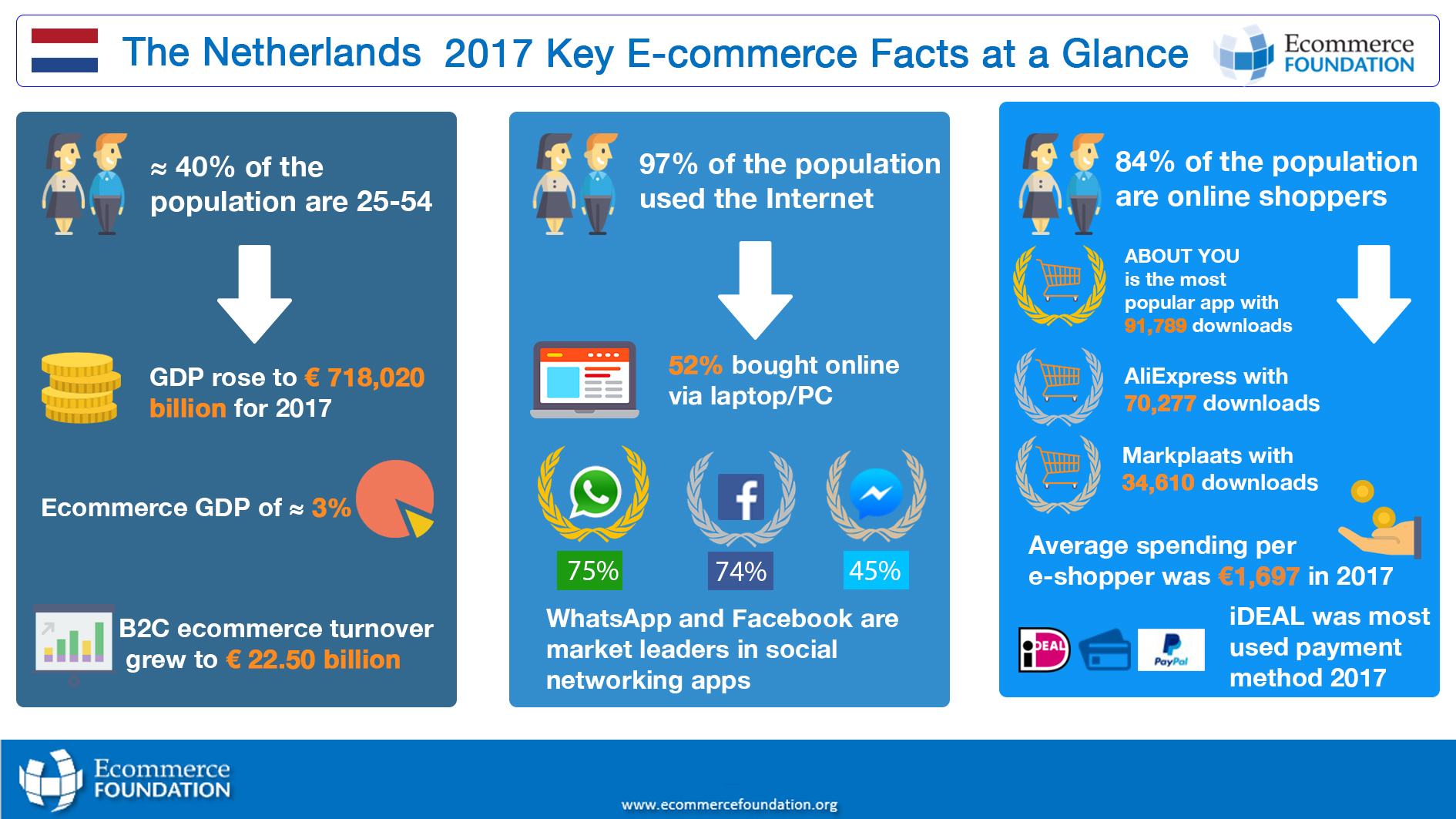 Opportunities & Challenges
With a very high level of internet penetration (96%), room for growth is not limited by access to online shopping. This is mirrored in the level of logistical infrastructure in the Netherlands, with many Dutch consumers stating they are happy with current standards when it comes to delivery. Therefore, innovation must be found in different areas.
When looking to advertising, the growth of social media could be a relevant avenue for growth. Furthermore, public opinion is moving towards being more open to mobile payment, with 49% of people saying they would like to be able to use mobile payment everywhere.
Delivery costs are still a major sticking point for Dutch consumers, and for 53% of shoppers it ranks highly. However, the speed of delivery ranked as the most encountered issue with online purchases (20%). Technical failure (11%) and wrong or damaged goods delivered (9%) were the second and third most common complaints. This further highlights the problem of the 'last mile' that B2C companies face in the Netherlands.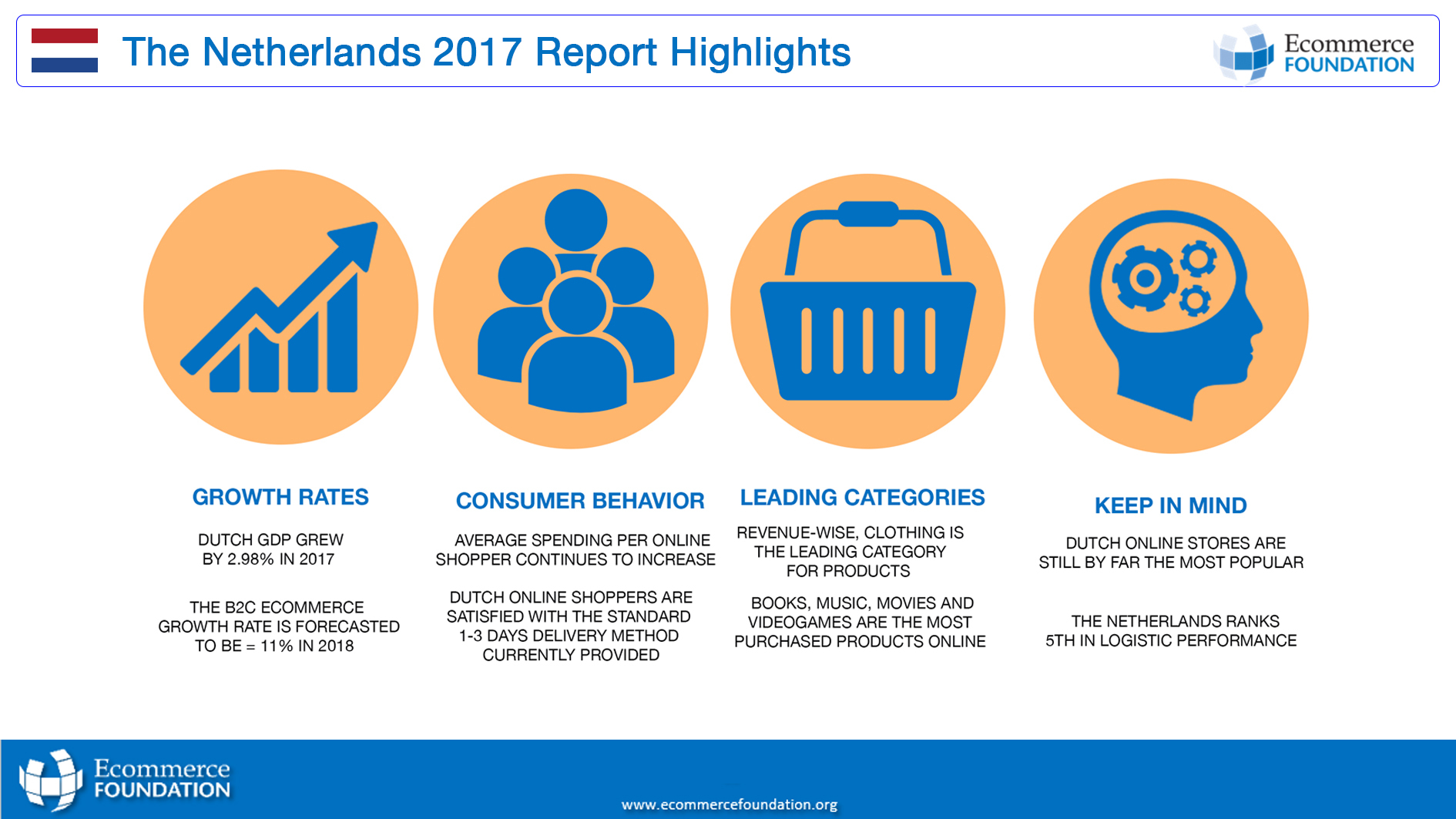 Contact information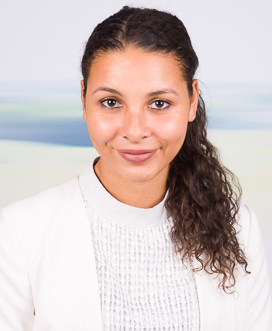 Metje van der Meer
Marketing Coordinator
 +31 6 484 562 82
metje.van.der.meer@ecommercefoundation.org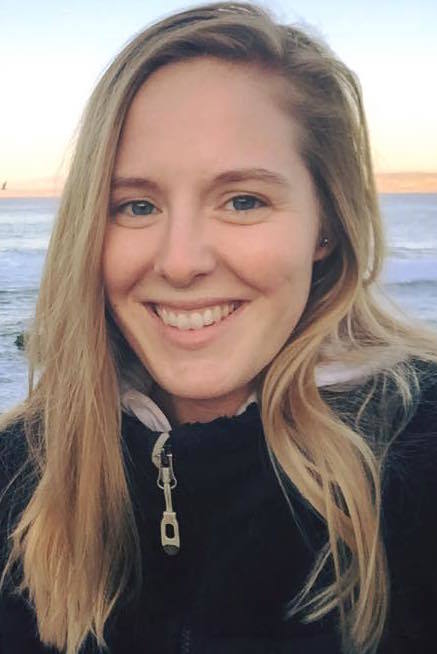 Sara Lone
Research Coordinator
+31 6 13 96 90 54
sara.lone@ecommercefoundation.org   
The Ecommerce Foundation is an independent organization, initiated by worldwide national ecommerce associations, as well as online and omnichannel selling companies from industries such as retail, travel and finance. Our mission is to foster global digital trade, as peace is the natural effect of trade. By facilitating digital ecommerce we hope to make the world a slightly better place.