An interview with Dynamic Yield's CMO
How do you foresee email marketing developing in 2017-2018?
Email continues to be an important investment for marketing teams in 2018. In fact, 58% of marketers plan to increase their spend on email marketing in the next year. The problem is that many marketers have been simply relying on increasing the amount of emails that they send to deliver results, which has a diminishing marginal rate of return with every email. The practice has become so commoditized that the amount of emails that we receive as individuals today is just insane, and our inboxes are flooded with emails. In order for email campaigns to continue delivering optimal results, the paradigm has to shift from blasting generic content to delivering personalized emails that are sent at the right time, with the right message.
​
What is your perspective regarding the future development on email marketing?
We're already witnessing a major shift in consumer preferences and habits when it comes to email marketing -- specifically, as it relates to personalization. Our own, independent research on the topic has shown a clear desire for more tailored, highly curated, and relevant email messaging. In fact, when asked how retailers could make email experiences better, only 13% of consumers said "Nothing, I'm very pleased overall when I receive emails from retailers."
So, there is still a lot of room for growth when it comes to delivering on that true one-to-one experience, and the strategies and tactics marketers employ in order to capitalize on this growing opportunity will also continue to develop. For example, delivering triggered emails sent with the right message at the right time is quickly becoming a necessity for marketing teams, rather than a nice-to-have.
​
Why is email marketing becoming the key driver for revenue generation?
No longer considered just a top of funnel initiative, email can target customers at all stages of the purchasing funnel and is a critical component of the customer journey -- from activating new customers with contextual, targeted promotions to re-engaging your existing customer base with relevant product recommendations based on a their past purchases or site behavior. Now, businesses are taking advantage of email to recover potential lost sales from visitors who have abandoned their shopping carts or left after browsing. With email, you can treat your bottom-of-funnel efforts with just as much importance as the top-of-funnel, as you have the ability to drive users towards purchase or conversion and focus on generating revenue.
​
Should online retailers capitalize on the opportunity to personally interact with their consumers? If so, why?
In the face of email fatigue, personalized content is standing out and reversing some of the inbox blindness consumers have come to experience as they scroll through droves of commercial emails in search of value. Tailoring emails to each customer is the best way to actually drive engagement, and thus, revenue. So as practitioners budget their spend on email marketing this year, the opportunity to improve the current state of the channel is too large to ignore.
​
How can email marketing be improved in North America?
Despite the fact that the vast majority of North American consumers felt they would respond more favorably to an email that looked like it was created specifically for them, a whopping 3 out of 4 consumers felt as though the email content they received from retailers was not personalized. Marketers need to ensure their email messages are personalized and relevant to each recipient; gone are the days of blasting out a standard email to their entire customer list and hoping for the best. For the best results, email should be treated as a part of your marketing stack (rather than a siloed channel) and should be able to leverage data from across all of your other marketing channels. Thankfully, with the rise of machine-learning technology, the same engine that drives personalization across your other marketing channels can be used to synchronize and optimize much of the email customer experience. 
​
How can an online retailer increase the chances that an email will be opened/read/clicked to visit the website or app?
Considering time of day based on the demographics and lifestyle of your customers is a key component to better influencing the actions a recipient takes with your brand. Especially seeing as 45% of consumers stated they would open and act on an email in that moment if it were a promotional email they liked. Outside of triggering emails for user behavior like site or cart abandonment, regular communications with your mailing list should be curated according to their preferences and tested/optimized over time. And while an open won't always ensure a click or transaction in that present moment, if the content or products featured in an email are compelling enough, the likelihood an individual will go back to make a transaction later via their desktop increases dramatically.
​
Do you suggest sending a reminder to customers who abandon their shopping carts? If so, how?
75% of online shoppers leave items in their carts without completing checkout, costing retailers $18 billion in annual sales revenue. While it's an inevitable part of ecommerce, retailers can minimize the occurrence using abandoned cart emails sent to re-engage shoppers and recapture potentially lost sales. In our experience, cart abandonment emails sent within the first hour of abandonment perform best. We recommend setting up a campaign trigger to send an email instantly after the cart is abandoned. Regardless of the reasons why shoppers abandon their shopping carts, you have a very limited window to win them back, and triggered emails help you recover customers while their purchasing decision is still fresh and top-of-mind.
What should email marketing do to deliver a one-on-one/personal experience?
Your email marketing efforts don't exist in a vacuum. It is absolutely essential to align your email experience with your onsite and mobile app experiences to ensure shoppers receive a cohesive customer experience. This means it must leverage data from across the entire marketing stack in order to deliver the most relevant, high-impact campaigns based on the most up-to-date user data. 
​
What are the main challenges of email marketing?
Simply enough, consumers have grown tired of generic online experiences. And due to decreasing consumer attention spans marked by the adoption of mobile, marketers face the challenge today of unifying fragmented data siloes from a multitude of devices and channels to create the 360 degree view of the customer necessary for personalizing their email experience.
​
What are the main challenges of mobile marketing?
While 60% of the traffic is actually coming from mobile phones and tablets, only 16% of the conversions actually happen on these channels. Coupled with the fact that average order values on desktop are significantly higher than mobile, the influx of traffic moving to smaller screens creates a near existential challenge for ecommerce. With limited digital real estate, marketers need to gain a better understanding of how users behave in order to bridge the mobile conversion gap.
​
What cost-efficient strategies can SMEs consider in recommending similar products to consumers, specifically to compete with mammoth marketplaces such as Amazon?
What Amazon does best is leverage its data, such as behavioral signals, historical preferences, and user affinities to better serve relevant experiences to their customers across channels. But this strategy isn't limited to Amazon's use -- with the right technology, use cases like its famous product recommendations can be adopted by SMEs looking to create meaningful customer experiences. It's just about capturing as much data as possible and activating it.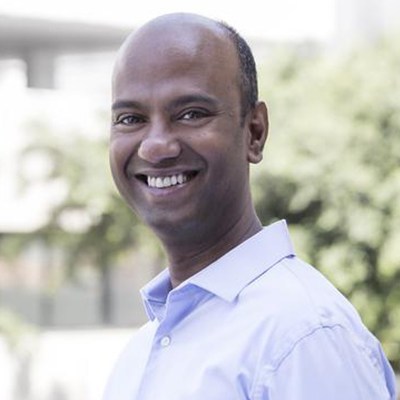 Mukund Ramachandran
Chief Marketing Officer, Dynamic Yield